---
Bob Sokol comes face to face with FRUMMOX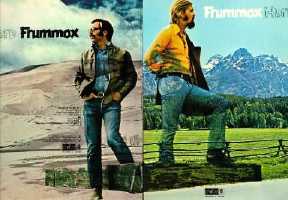 A tale of infinite improbabilities
and the musical thread that binds.
by Bob Sokol
---
1969
It begins back in 1969 when I was a college freshman living in Philadelphia. My room-mate Jimmy Burns had a weekend job at a pharmacy over in Cherry Hill where they had a cut-rate record rack full of esoteric artists from unknown record labels.
Every Monday Jimmy would come back with a couple of 33's which we would listen to once and then use for frisbees.
Among these albums was the FRUMMOX album, a collection of ballads performed by these two guys from Texas playing acoustic guitars; Steven Fromholz and Dan McCrimmon. I credit Jimmy with making me sit down and listen to it all the way through the first time, and as it had done to him, it reached out and grabbed me. This is all the more unusual when you consider that at the time I was 19 and we were mostly listening to Led Zeppelin and Lee Michaels cranked up as loud as it would go...
---
---
Jimmy and I listened to that album regularly and soon we knew all the words to all the tunes. We never heard any of them anywhere else except on that disc... No radio station ever picked up on them, no club ever booked them, no one else ever heard of them. Upon graduation, we went our separate ways, Jimmy and his record collection stayed on the East Coast and I headed west to 'grow up with the country'.

In my travels, I ran across a copy of the FRUMMOX album in a second-hand store for two bucks and I played it until it got so thin you could see through it...
---
1975
During the years I lived in the bus I traveled the country working when I needed the bucks as everything from auto mechanic to animal trainer. On a stay in Bisbee, AZ, I made a good friend in Virgo Bill Conte, a half-fast guitarist who played a beat-up Gibson Hummingbird. When I expressed an interest in learning to play, he took me by the hand to a local pawn shop and helped me pick out a six-string to learn on. I gave a hundred bucks for this Ibanez copy of the Gibson Dove. It was an excellent choice, and I still own it.
Bill was a great guy but no teacher, so I got a copy of Mel Bay's 'learn to play' series and locked myself in the back room for a few months. I guess it should come as no surprise to anyone that those familiar songs from the FRUMMOX album were the first songs I wanted to tackle. He had never heard of them, but after a listen through my scratched up album, he wrote down the chord progressions for me and I was on my way. Over the years I have gotten to be a pretty good picker, and I've been told I have a passable voice, and by now I can play a couple hundred tunes from memory. But those tunes from the FRUMMOX album remain some of my favorites.
---
1979
On a cross country jaunt in 1979, I was driving through El Paso when I saw a poster for the KERRVILLE FOLK FESTIVAL which was due to kick off a four day event just three weeks away. I picked up the phone and called the number on the poster and found myself talking to Rod Kennedy, the promoter. I explained that I was a clever guy traveling with all my tools and looking for a diversion. I asked if he needed temporary help preparing for the festival, and he told me to drive on over and they'd find a place for me and my bus.
---
---
The next day I arrived at Quiet Valley Ranch just south of Kerrville TX. There was exactly two people there, Rod and his wife Nancy Lee. I parked the bus at the other end of the property from their house and spent the next 15 days fixing things at Rod's direction. Busted plumbing, fallen bathroom doors, trenching and stringing electrical wiring, patching leaky water tanks; you name it, I did it. Alone.

It was getting to be a joke between me and Nancy Lee that when I would come up to the house for meals I'd always ask, "Are you sure people are really coming out here next weekend? Are you SURE this isn't just a ploy Rod uses to get help fixing up the place?" Well come Thursday morning people did indeed arrive, and many thousands came to camp out and party that weekend. I was the official 'head of maintenance' for the festival, and I had a great time. I reckon it was worth all the sweat.

The Festival was an all-day affair of acts on stage, followed by all-night campfires where it seemed like everyone who came played musical instruments. Imagine my surprise to find out that EVERYONE knew ALL the songs from the FRUMMOX album! Turns out it is a local legend in Texas, and Steven Fromholtz still plays solo gigs around Austin.
---
1980
The last task I performed for Rod Kennedy was set in concrete... The Baldwin Piano people graciously offered to provide a baby grand for use on stage if Rod would only provide a suitable shelter for it. Unfortunately, the stage was made of wood with spaces between the boards, so I had to build a form and pour a concrete slab big enough to hold the piano. Rod then had a little shed built on the slab with heat and A/C to house the piano. I fought the Texas mosquitos and the Texas heat to frame that slab, and when the concrete truck pulled away and left me to smooth her out, I couldn't resist putting my initials and the date in a corner of the fresh concrete, "B.S. 1980".
Although I was unaware of it when I signed on with Rod, he owed money all over the place. And true to his reputation, when the festival was over he stiffed me for the three hundred bucks he had promised me for working the three weeks, sighting the fact that the festival had not made any money.
I guess it left a sour taste in my mouth, because I would not return to the ranch for 17 years.
---
1982
I settled in Austin, TX, sold the bus, opened a business, married my high school sweetheart and started raising kids, kids who enjoy music; my Julie plays piano and cello.
And last year I FINALLY bought the guitar I always wanted, my Gibson Hummingbird.
---
1993
I got my first music CD player!
By now, copies of the now-classic FRUMMOX album were going for $25 to $40 in the used record stores and they were all well played like mine. When I started buying CD copies of all my favorite old albums, I naturally was searching for a CD copy of the FRUMMOX album. Of course, it was a one-time vinyl pressing twenty years out of print and no CD existed.
---
1995
I got a computer and I got on the internet and:
Up and down the internet I could find no reference to a FRUMMOX CD. But during an all-night web session hammering the search engines, I stumbled over a used record site in California where they warehouse albums which have been returned to the manufacturer for credit becuase they didn't sell. Unbelieveable! Six copies of the FRUMMOX album "HERE TO THERE", new, sealed for 15 bucks each! So for a hundred bucks I took them all... When they arrived, I hustled them over to a friend who runs a sound studio which specializes in (guess what?) transfering albums to CD. It should come as no surprise that he was a fan and amazed to see my unopened copies. He set out on a labor of love that, one week later, produced a sweetened copy of the FRUMMOX album on CDr. I can finally drive around in my pick-up and listen to those old tunes!
---
1998, Memorial day weekend
The Kerrville Folk Festival takes place at the beginning and end of the summer, Memorial day and Labor day weekends. I have these friends Stuart and Cari who are staff volunteers and they are always trying to get me to come down for festival weekend and hang out.
I have been to parties at their house which always end up as jam sessions and I have met and picked with some of their other friends. Among them local side man Fletcher Clark who, coincidently has played onstage locally with Steven Fromholz.
---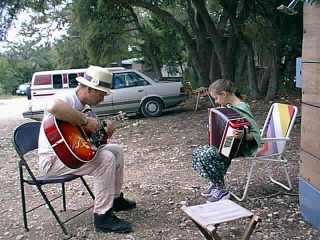 Cullen gives Julie a lesson on the squeeze-box
---
My daughter Julie is 11 and Cari, who runs the back-stage kitchen, invited her specially to come work with her. So after all these years I found myself back at Kerrville, camping in the staff camp area and eating meals back-stage. Julie's Mom told her she could go on the condition that she find a piano or keyboard of some kind to practice on, as she had a recital coming up the following weekend.
---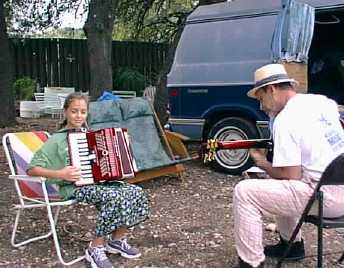 I'm not sure that this is what her mother had in mind when she said, "Find a keyboard to practice on".
---
On Saturday morning over breakfast, I reminded her of her promise, and Cari ran off to ask the stage manager if Julie could use the stage piano. As it was 10:00 and the first act was not until 1:00, the theatre was empty and the piano was free. So we took our coffee cups climbed the stairs to the back stage, only to find this most excellent Baldwin grand. Julie pounded out a rousing version of Scott Joplin's, "The Entertainer" for the volunteers cleaning the theatre and when she finished I sat down on the bench with her and proceeded to tell her the story of how, twenty years earlier, I had spent several days out in the sun, sweating and pouring the concrete slab we were sitting on. I was able to punctuate my story by pointing under the bench to where my initials still appear in the concrete:
---
---
Five minutes later:
As we walked down the stage steps I found myself face to face with Steven Fromholtz! He was there as a judge for the New Folk song writer's competition. I screwed up my courage (it can be disconcerting to come face to face with a six foot something personal legend the first time!) and introduced myself. Steven turned out to be a very approachable, friendly guy and he listened to my story all the way from Philadelphia to Kerrville to the FRUMMOX CD I had made. He told me that the chances were slim to none that anyone would ever do an official version of the CD and that he was lucky he still had the right to even perform those songs in public... I offered to send him a copy when I got back to town, and he gave me his card.
---
---
Julie and I had a full, fun, exhausting weekend and it didn't take much convincing to get us to vow we'd be back for Labor Day.
---
---
1998, Labor day weekend
The official Kerrville Folk Festival program headlines touted a re-union of FRUMMOX, so Julie and I arrived early and got a prime campsite in the staff area right back-stage. I brought along lawn chairs and I commandeered a table, and we set up a nice circle right outside of our van door, the plan being that instead of walking from camp fire to camp fire, this time we would stay home and BE a campfire. Let them come to us...
Saturday went by in typical Kerrville fashion. We listened to music until midnight, then played music until the sun came up. Fortunately, I didn't have far to walk to bed. I had had about 5 hours sleep, when the on-stage music started Sunday noon, and I awoke to find Stuart sipping a julep outside my door. I was just shaking it off when Fletcher pulled up on his motorcycle with his mandolin strapped to the back. He comes into the circle and sits with us, explaining that the mandolin has just come out of the shop and needs to be tuned. I reach into the van and pull out my cheap mandolin to tune to, and right away we're picking. But at the first opportunity, I switch to my Hummingbird, and compliments come from all assembled.
On the guitar that is, not on my picking...
---
My Gibson hummingbird
---
Next to wander up was Segle Fry carrying his banjo and he has Dan McCrimmon in tow. Dan, the other half of FRUMMOX, just flew in for the day. These days he is living the quiet life up in Colorado. He seems a little surprised at the reunion, and I am starting to think that Rod Kennedy may have neglected to inform all of the participants...

When I get an opening, I start spewing my tale on Dan, who kindly listens to my story, all the way from Philadelphia to Kerrville. He takes me up on my offer to send him a copy of the FRUMMOX CD and we exchange cards.



---
---
---
I told Dan that I had heard Steven do a live version of Kansas Legend (a song Dan wrote) with an extra verse in it, one that isn't on the Frummox album. He told me that when they used to tour and perform the tune live he would speak that extra verse and he offered to write it down for me. So he sits in my van with my slam book open to the song he wrote making corrections to it.
---
---
He says he can't think it out straight unless he plays it as he writes it, and 1, 2, 3: He's playing my hummingbird...
---
The missing verse:

---
---
By now the general conversation has turned to the 70's and he tells some stories about the tour they went on promoting the FRUMMOX album and about playing some club near Philly where they were totally unappreciated...
About this time Fromholz wheels up and I find myself, quite literally, in the middle of the FRUMMOX reunion.
---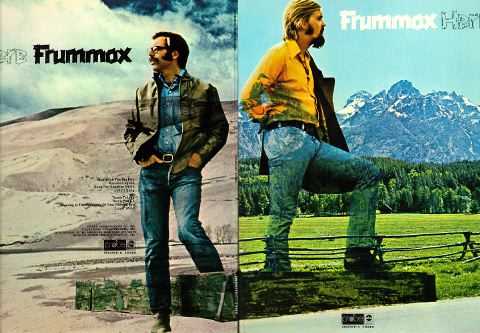 Dan McCrimmon
Steven Fromholz
back in '69
---
After a bunch of back slapping and how-ya-beens, they discover that they are scheduled to appear onstage twice: They are booked as FRUMMOX as the closer at midnight, but Fromholz is also supposed to do a warm-up set, like right now.
He asks Seigel and Fletcher to join Dan and him on stage. Fletcher says, "Yeah, great, but I don't have a guitar with me: wouldn't fit on my motorcycle."
Fletcher says to me, "Don't I remember seeing an electric pickup on your Gibson and would you mind if I played it onstage with your heros Steven Fromholz and Dan McCrimmon?"
Well, he didn't ask me in exactly that way, but that's the way I heard it...
He pulls my Hummingbird out of it's case, strums a big E chord, the usual compliments fly and then they all hustle around to the stage.
---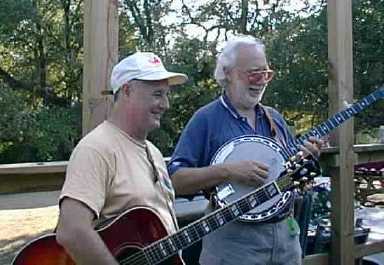 Fletcher Clark and Segle Fry backstage
---
I grab my camera and work my way around the front.
---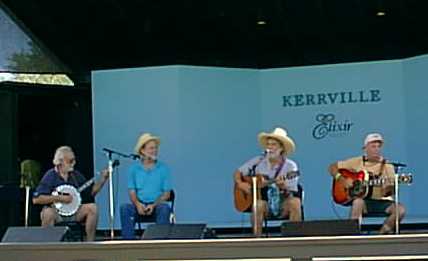 Segle Fry, Dan McCrimmon, Steven Fromholz, Fletcher Clark
(and my hummingbird)
---
---
I hope you enjoyed this story by:
Bob Sokol
4418 Pack Saddle Pass
Austin, TX 78745
512-447-8888
Return to BobSokol.com