Here's another interesting thing you can do with that old Volkswagen when it reaches the end of the road...


Start with an old VW. A Karmann Ghia is especially nice because the rear wheels are about 4" wider than a bug.

Roll the VW over on it's side and cut out the rear end with an oxy-acetylene torch. The engine, transmission, and rear suspension fall out in one piece.

Weld on a few sticks of 1" square stock to form a seat (big enough to store your bed-roll and a couple of changes of clothes) and a storage compartment (big enough to hold a couple of cases of beer).

Cover the frame with sheet steel, poke a few holes for lights and the stereo and stuff...

Paint the trike a subdued color so as not to attract too much attention on the open road. Rebuild the engine with a mild cam and a big bore kit. Chrome every piece of the engine that comes loose. Buy huge chrome rims and put them on before you take your pictures...

And voila! You've got your own recycled VW trike. 100 horsepower, four speed (with reverse), AND you can't fall over when you stop at a traffic light!
---

But let's face it, I still own a torch and a welder...
So after a few years it's time to transform this creation into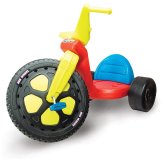 THE BIG WHEEL TRIKE


Return to Bob Sokol's home page.
Write to Bob Sokol

---