---



FRIDAY: 2/13/2004
Uh oh! Bob must be bored...

I'm thinking about building a BIG WHEEL TRIKE for the HOUSTON ARTCAR PARADE May 8th.
I just happen to have this old VolksWagen three wheeler sitting in the back of the shop for a few years, it looks to be a likely donor for this project...


The concept here is to build an open frame vehicle and then cover it in primary colored polyethylene. It comes in sheets that you can cut with shears and bend in boiling water. You can glue it to itself or other surfaces with spray adhesive or attach it with pop rivets.

The round surfaces like the down-tubes on the springer can be covered in roll-cage padding.
---

MONDAY: 2/16/2004
In one afternoon Jake and I pulled the engine, floorboards, dashboard, wiring and lights.

Now we can see what we've got to work with. We jacked up the front end to give us a better angle at our BIG front wheel which we are now estimating at 50 to 60 inches in diameter.

That'll put the axle 25+ inches off the floor. In order to get some perspective on it, I cut a 50 inch disc out of plywood and took some pictures.

These rear tires are 25 inches in diameter. We have some 22s that we could bolt up, but Jake wants to look for smaller, wider drag slicks.
THURSDAY: 2/19/2004
The whole front end is all wrong; get out the Sawzall...

The old body is way too tall and all the wrong shape. Hand me the torch!

Needs to be way lower.


SATURDAY: 2/21/2004
That's more like it...

Here's my first attempt at using the POLYETHYLENE sheet. I cut a rectangle and dropped it in boiling water for one minute, then rolled it up and let it cool in a tight tube. Here's a picture of the starter / solenoid assembly:

Here it is with my RED POLY sleeve squeezing tightly around the solenoid:
---
MONDAY MARCH 1st, 2004. My 20th wedding anniversary! Ok, no garage time tonight...
---
Tuesday MARCH 2/02/04

Here's the frame chopped down to the bare minimum, ready to start building back up.
---

That's about enough pictures for one page. Click this picture to go on to the next page.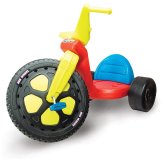 THE BIG WHEEL TRIKE PAGE 2
---
Return to The original TRIKE PAGE.
---
Return to Bob Sokol's home page.
---