---



WEDNESDAY: 3/3/2004
We start with the front end and cut and grind the upright supports even.
---
Next we eyeball the angle for the uprights which will hold the steering crown and clamp one in.
---
Then a second one to form the sides.
---
We take our time getting everything square...
---
Jake clamps in short braces beween the uprights and welds them in place.
---
while I cut a rough piece of plywood to see how our seat back will look. This first attempt is way too tall.
---
We take a trip to the steel yard and pick up some flat strap to wrap around the edge of the seat back and to form the rim of the front wheel. Here's a 55" circle to help us visualize the BIG front wheel.
---
Here's our set-up for welding the strap over the seat back.
---
and Jake welding it up.
---
Here we've added a couple of pieces to support the strap and the first upright is welded on for the firewall.
---
At the end of the day we put some foam on the seat and seat back and sat in the driver's seat. It won't be long now!
---
---

Tune in next time for more pictures on BIG WHEEL TRIKE PAGE 3. Click this picture to go on to the next page.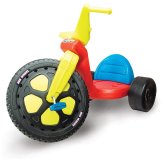 THE BIG WHEEL TRIKE PAGE 3
---
Return to BIG WHEEL TRIKE PAGE 1.
---
Return to Bob Sokol's home page.
---